Children's Parties
From as little as $90 per hour, this could truly be the start of a fun party.

Thinking about the number of kids attending, with 10 kids, you should allow approx 90 minutes.

We have all done the fast food party, the bowling party, ice skating party, all finished as soon as you walk out the door.

With a Temporary Tattoo party, they are still laughing about the tattoos and comparing them much later.

For an added element of fun, a face painter can also be arranged at a minimal additional cost.

* Depending on location a surcharge for travel may be charged.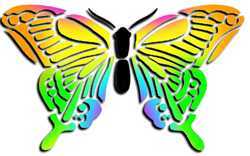 Adult Parties
Ever had the weekend approaching and your friends start asking what you are doing for the weekend?

Ever sat at home on a Friday or Saturday afternoon or night with nothing much to do?

Have you ever wanted to invite a few friends over but have not been really sure about what you would all be doing?

Then why not have a Temporary Tattoo Party?

Yes that is right, even we adults like to have a little fun.

Air With Flair can attend almost any location as we are fully self sufficient.

We can be set up in as little as 30 minutes and help you to get the party started.

There are so many options available for your party.

We can help you work out a theme for the night, We can help you work out your colours.
Tattoo Sleeves
Over 30 different designs
Great for fancy dress parties or just for fun
Made from nylon and spandex that can fit different sized arms
Breathable material which provides UV protection
Fully washable
Can be worn full arm or as a lower leg tattoo sleeve
Looks like a real full arm sleeve, great addition for that theme party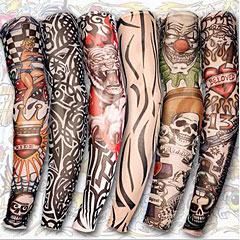 Mobile Spray-Tanning
Air With Flair utilise only world renown products from Norvell & Solere'
Air With Flair is mobile, we can come to you… We can set-up in the privacy of your own home, yard, garage, patio etc
Fragrant and non fragrant tans available
Air With Flair can cater for you or you can have a party which will lower the overall cost for all attendees or your tan can be free
Loyalty cards available
We have a variety of tan shades available
We have 6, 8, 12 and 24 hour progressive shades available
Tan noticeable within minutes
Spray-tans generally last up to 10 days
Looks like the real thing without the risks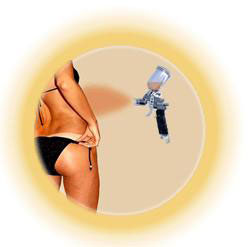 Large Parties & Corporate Functions
Yes we do Corporate Functions, Christmas Parties, Why Not Parties.

Senior Management are always seeking ways to assist staff morale, well, imagine

Monday morning when the photos appear on the staff notice board, the tattoos may last up to 10 days, the photos and laughter will last forever

If there is a theme for the function, we can cater for that as well, we can arrange corporate logos, special designs, almost anything you need to make it special.

Please contact Dave and he will be more than happy to negotiate a price for you.

This consists of any person attending the function being able to have any tattoo of their choice from our available range of designs. Once each person wanting a tattoo has received one, then time allowing, people are welcome to attend for a 2nd or 3rd tattoo, and so on.

We run five airbrushes at any given time, and organisers are welcome to choose the five colours from our range of 16 colours.

Glitters and shimmer powders are available at all times.

For an added element of fun, a face painter can also be arranged at a minimal additional cost.

* Depending on location a surcharge for travel may be charged